The act of providing first-aid in this blog is insignificant when compared to some real-time heroic actions performed by many good samaritans. The purpose of this blog is to provide knowledge and awareness and also to educate everyone (and also the organizers of many sports events) who participates in mass public events like marathons to be aware of the dangers surrounding them and how they can play a role in preventing as well as saving lives during emergencies through a simple act of kindness. I still consider me to be blessed to be part of this incident and to help someone injured.

#coachkay
A marathon event usually brings in personal achievements and satisfaction for one section of runners. It can also be a life-changing experience for some. But for a few unfortunate souls, the event can bring painful experiences and bad memories.
I was pacing a 5 hr full marathon bus at the Chennai Marathon yesterday (6-Jan-2019, Sunday). This was my 5th year as a pacer at this event, and I really love doing this year after year. I was chatting & running with a bunch of runners who hopped on to my bus.
After we entered the OMR road, we were running past the 5k aid-station. Only one side of the road was accessible to the runners soon after entering the OMR road. This stretch had multiple barricades dividing the broad highway to guide runners and isolate them from the traffic. The narrow side of the running passage, between the median and the steel barricades, had all the runners packed into it.
I was having my usual and encouraging conversation with the bus runners and at that moment I saw 2 runners hurridly waving at me, from the opposite side while shouting "this man requires first-aid, he is hurt!" They both were holding and supporting an older runner by his shoulders. The injured man appeared a little cool.
The injured man was holding his left arm, like how when a hand is held steadily with the support of a sling. One of the 2 runners (on 8-Jan I had realized that one of them was Augustin Solomon) said he had fallen down and hit his arm against the metal barricade. By the look of it, I couldn't understand where the injury was since it was dark. I thought he had a shoulder injury.
At that moment, I realised they approached me because I was carrying the road safety banners and both of them recognized me. I was instantly recollecting the accident happened on the 26 Oct 2016 on the Bangalore marathon route. I had provided first-aid and taken the victim (a biker) to the hospital, admitted him and came back to finish my run (the #helpkirantoday through Ketto campaign was successfully launched after that). I clearly knew the situation that I was witnessing was not as bad as the Bangalore incident. But, this incident was almost a reminder of that memorable day.
I asked my bus runners to continue running and decided to attend to the injured runner. I also appreciated and thanked the 2 runners who were supporting the injured runner and asked them to keep running. I was a pacer and I had a commitment to help the runners who tagged with me but at that moment I decided to bail out from my pacing job to help this man. I was confident to support him.
I asked this man to sit on the road divider while chatting with him. Upon a quick examination, I had found that there was no visible bleeding & there were no other injuries on his body. This man had a broken wrist, and it appeared to be nasty. He was probably disappointed that he couldn't run. His broken wrist must be immediately supported and splinted with a proper bandage to stop further damage.
Even under this condition, he was able to move his fingers freely. He told me that he wanted to continue running. I said to him that he needed the first-aid immediately, and then with the help of a doctor, we could decide whether he was fit to run. I convinced him to stay there and wait for the first-aid team to arrive.
While this was happening, I felt positive and confident to get a proper first-aid support because only about a few minutes before this incident, at the 5k aid station, I met Kala Balasundaram (the founding members of Alert) along with Karthik and Maha, both are the VoICEs (Volunteer in case of emergency, and Alert office bearers).
Alert was the designated first-aid partner for the Chennai Marathon, and they had placed several first-responders and trained more than 70000 first-responders and many VoICES (volunteer in case of emergency). I had run past them, waved at them and also took pictures with them at the aid station a few minutes ago. Knowing that the support would arrive soon, I picked my phone, and I called Maha. She instantly answered the phone.
I explained to her the situation and the need for the first-aid kit to support a broken wrist. Within the next 2-3 minutes, Karthik Venkatesan arrived at the spot nearly sprinting, and Maha came right behind him. Both were gasping for air and had the eagerness to help with loving and caring eyes. They were sharing so much concern and care and preparing themselves to help. I explained the situation to Karthik and he too then assessed the injury. He instantly opened and spread out his first aid kit on top of the median.
As he was preparing the first-aid kit, Karthik shared a few comforting words to the injured runner and telling him that he couldn't run and needed to take care of his broken wrist. In the meantime, Maha and I coordinated and started preparing the wooden splints. We held on to the wood pieces pulled out from the first-aid kit, kept on top, and the bottom side of the arm and Karthik applied a bandage to arrest the fractured wrist.
Everything happened like a perfectly organised sequence, with an amazingly coordinated team effort, all within 7-8 mins. The wrist was quickly stabilised, and this brought back a sigh of relief to all of us.
The injured man was continuously telling me that he was ok. He said he could move his fingers and wanted to continue running. This relaxed but a determined attitude showed me how much our human body can ignore pain, overcome challenges when we are passionate about achieving something. Considering the magnitude of the situation as first-responders, I had to tell him, in a friendly yet assertive voice to forget running and to get the right treatment for the broken wrist.
For me at that moment, as a first-responder, the safety and security the injured man appeared very important. This man could attempt another race in the future after becoming alright. It was evident that he was disappointed about this situation.
Karthik was quickly working on his wrist and stabilised it with a proper splint. After his wrist was stabilised, Karthik asked me to move on with my running. I was happy to resume running. I was confident that the injured runner was in safe hands of Karthik and Maha.
I started sprinting with an enormous amount of satisfaction to join back my bus runners.
I was also appreciating the fact that the event had put in the right mechanisms like having the first-aid partner and the ambulance support to respond to situations like this.
What can we all learn from this incident?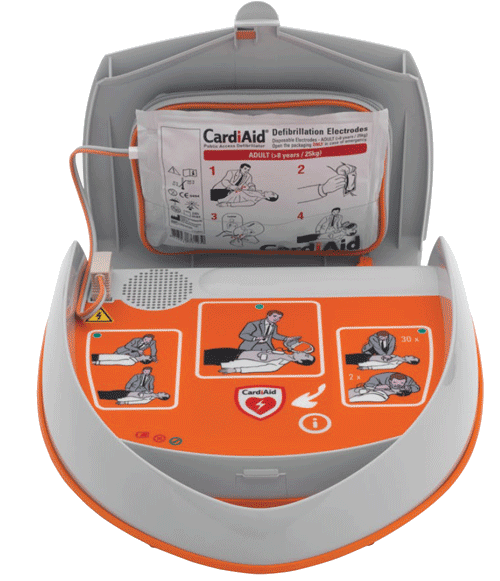 I'm a founder/race director for (OOTYULTRA – www.ootyultra.com) and also support a few other races as race director and as an advisor. I've taken a personal pledge to make all my events very safe and secure. I partner with Alert to bring in the first-responders and train the volunteers on first-aid and CPR procedures before the sporting event. For the OOTYULTRA I also have a partnership with CardiAid (the makers of the worlds friendliest CPR devices) to bring have a live AED kit along with a medical crew. We had a similar arrangement for BAMA tournament and also the Master Muscle marathon that I race directed. The idea is always to make the events as safe as possible. Even with these control mechanisms, certain things may go out of control. It's better to be prepared and fail than to fail without any preparation at all. The broken wrist and the swiftness in getting the response yesterday further justify my stance on the safety measures required in sporting events.
All running/sports events must have trained first responders as volunteers and along with the support from an adequately aided ambulance, emergency response teams and AED kits.
All marathon pacers & key aid-station volunteers must undergo first aid training. The aid-stations must carry firs-aid kits.
The race organisers should identify volunteer runners who can carry a flag or carry necessary first-aid equipment as part of the pacing buses.
Trained cycle first-responders could respond swiftly and support anyone needing first-aid quickly
Pacers and supporting volunteers must have the telephone numbers of the first responders.
Lastly, if you are an event organiser I would like to strongly recommend you to an NGO like Alert, which cares for the community by providing selfless support and leadership on this sensitive subject like first-aid. Ensure association with hospitals who can also provide cardio-ambulances to support emergencies.
Make sure your event has all the safety measures in place with caring, cable and trained VoICEs.
Connect with me, I'm also willing to share my experiences and help you make your events safer.
Alright, you might now wonder what happened to my 5-hr pacing bus?
As I started sprinting along the marathon course, I looked at my watch and found I had already lost ~7-8 mins to stay with the pacing plan for the 5hr bus. My average pace required was 7.04 to complete a sub-5. I decided to continue sprinting and join the 5 hr bus runners within the next 4-6 km. The following 4 km, I ran at 5:45, 5:58, 6:12, 6:25 and finally caught up with the bus runners. We were happily reunited. I was pleased to continue my responsibility as a pacer and take the runners with me until the finish line. I was happy to know that, two runners, V Rajaram and Yogesh Rao who stayed with me since the beginning, until the finish line, had achieved their dream of running a sub 5 marathon. I also managed to motivate and encourage a few other runners from the 32k mark until the finish. Finally, my bus arrived at the finish line with a gun-time of 4:59:04 and net time of 4:58:44 (Strava link)
After about an hour Karthik had sent a message that the runner was sent to Apollo hospitals in an ambulance for further treatment.
I'm a happy pacer
I'm a responsible first-responder
I'm a happy & proud Alert Voice Ambassador
I'm glad to feel that my mission and the message regarding road-safety and the need for first-aid & CPR will continue on sporting events and locations
What did this marathon event bring to me personally?
Many happy moments and one dull moment to see someone hurt, and particularly a strong reminder to Be Alert, Be Safe! Be there to Save!
What can you do?
Simply share this post, talk about it, understand that an accident can't be planned and get trained, talk to @alert.ngo or any other institutions to get trained on First-aid and become a first responder, become a VoICE, be a happy and caring runner and a human being. Write to me if you have further questions, I'm available to help you.
#coachkay